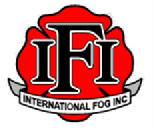 Phoenix Energy Nigeria Limited is the distributor for International Fog Inc in Nigeria.
International Fog Inc (IFI) is focused of producing superior application driven products for the fire industry. Using engineering and innovation, while supplying complementing, informative, and solution driven services to our customers we have developed a more efficient fire suppression nozzle.
The Deluge-Tech™ nozzles use the patented IFI fog and rotor technology. Working with a new apparatus developed by Custom Spray Solutions, design changes were made to optimize the spray pattern and droplet size for a more effective suppression nozzle.
With the knowledge gained from data collected by the apparatus a series of new nozzles were developed that are more efficient, not wasting the water in one area and leaving other areas void of water.
The nozzle design results in an even distribution of the desired water droplet size and design density for a given application. The efficient use of water results in wider coverage areas and further throw allowing for more flexible designs, saving money on both installation and maintenance while maintaining system capabilities. These nozzles can be purchased individually or a complete design quote can be completed by a Professional Fire Protection Engineer at the customer's request.
Please explore our website to learn more about our development process and the nozzle technology.
If you have a unique application please feel free to contact us and we will assist you any way we can.